Counseling Austin & Westlake Hills
Professional Counseling Austin
You're tired of feeling stuck, frustrated and stressed out. You want to feel better, learn how to prevent painful situations in the future, and get on with your life. I will help you look into new, more effective ways of living based on a balance of science, intuition, and experience.
Therapeutic fit
Finding the right professional counselor is extremely important. You want to feel supported, but you also want to know that your therapist won't hesitate to challenge the thoughts and beliefs that contribute to your suffering.
Not to worry, while I'm relaxed and casual in my approach, I will share the truth with you.
Trustworthy, relaxed
In Austin, we expect the very best when it comes to being healthy. This means that when it comes to seeking help, we need to trust the people we turn to; we need to feel at ease so that we will feel safe and comfortable while we talk about our lives, loved ones, and the struggles we face.
Facing fears
If you've made it this far in your search for help, then rest assured that your time in my office will not feel clinical, nor will you feel "analyzed" or labeled with a diagnosis. I'm here to have a conversation with you.
Using insurance will require a diagnosis to be on your file. This is why I do not accept insurance; I respect your privacy.

Mindfully challenging thoughts
Coming from a Mindfulness-based Cognitive Behavioral approach means that I help you learn to simply notice your thoughts, then change the ones that are problematic. When you change your thought habits, you begin to change. Read more about Mindfulness in my blog.
Re-living trauma not needed
Many people wonder if they will have to describe in chilling detail any traumatic experiences they have had. The answer is no. But if you feel like you need to help me understand what has happened, I will provide a safe place for you to share what you have been through.
Learn from the past, then leave it behind.
Services
Individual Counseling
I work with adults and teens that are ready to change by taking ownership of their lives. Like most people, you probably want to understand your situation, and learn how to change it without spinning your wheels or being lectured. I work hard to make sure that you feel understood before we start building or fine-tuning your methods for dealing with life.
Successful clients in my practice deal with a variety of issues like relationship problems, stress management, anxiety, depression and grief, just to name a few. Regardless of how lost you may feel, please consider that by finding this website you have already begun the change process.
Crisis & Trauma Response
Since 1998, I have responded to well over 300 onsite and telephonic Critical Incidents. These have ranged from traumatic death, to natural disasters and terrorism. You may be wondering if you are experiencing PTSD if you've been through a traumatic event; many people compare what they have been through to a soldier returning from battle, or somebody that survived 9-11. It is important to understand that PTSD is not just reserved for catastrophic trauma, but it can manifest after losing a job, a relationship breakup, a car accident, etc.
You may also be wondering if you'll have to re-live your tragedy in order to get through it. The answer is No. As a matter of fact, re-telling the trauma too much actually causes makes things worse. You can tell me about your experience, and trust that I will know if it is making things worse and that I will slow you down, and show you other ways to process your pain.
Marriage & Couples Counseling
There are two types of relationship problems: Content and Process. Content are the topics we argue about: Money, sex and parenting being the top 3. Process is HOW we go about resolving the content. The most common process conflict is when both people are correct from their own perspective. By seeking to show understanding to your partner, you help yourself to be better understood.
I help couples examine their assumptions, sharpen their communication skills, and learn how to recognize, and respond to warning signs that indicate a need to slow down, and understand better. I will also suggest books that fit your personalities and unique relationship dynamics.
Group Counseling
Most people find it comforting to know that they're not alone in their struggles; that others have been there and can relate, share support and tips for making through the tough times. Groups also provide an excellent venue to get multiple thoughts on how to approach life.
For some, groups can also provide a more affordable alternative to individual sessions.  Gate Healing is forming groups for 3-4 couples that are struggling with communication and feeling connected, for individuals wanting to learn how to slow down and live more content lives, and trauma survivors ready to move beyond their pain.
What mental health professionals are saying
"I have known Jon Anderson for almost 20 years and have always been impressed with the energy and passion that he brings to his counseling sessions. He is amazing with individuals and even better with couples. He possesses that perfect mixture of clinical knowledge and natural instincts that enables him to truly connect with his clients. People walk away from his office feeling heard and validated. Better yet, they feel like they can overcome obstacles and reach their goals with Jon on their team."
— Kirsten Brunner, MA, LPC
"Jon is a colleague who I trust inherently with any clients that I send his way.  He is very clear in his communication, direct, yet compassionate and able to connect with clients in a very meaningful and transformative way."
— Seth Houdeshell, LCSW, SAP
"Jonathan is a remarkably insightful therapist.  He is patient, empathetic and able to grasp crucial issues that impede progress.  Jon offers profound tools that provide insight to uncover your strengths, transcend the past and live better in the present."
— Jennifer Dunham, MA, LPC-s
". . . he has a way to pinpoint a concern and delve straight into it. I owe quite a lot to Jonathan for the changed person I am today. I now have a gift of a toolbox to fight stress, anxiety, insomnia, anger, depression and fear. It's hard to believe I can say this but with Jon's help, that trauma event no longer owns me. . "
–J.R.
". . . I never felt that I was by-myself. I will always appreciate Jonathan's frankness, ability to [help] me to talk about things that had been buried my whole adult life as well as giving me the "tools" to sort things out and become a much happier, loving and better person to myself as well as others around me. . ."
–L.H. Engineer
". . . My wife and I would like to thank Mr. Anderson for assisting us through some challenging moments. Jon quickly opened our eyes to different approaches and strategies to better communication. It's amazing how you can get into a rut, or habit of the same negative communication patterns, but think you are being completely open minded. . ."
–A.D. High Tech Ops Manager
". . . [He] has been very instrumental during a difficult time in my life. He allows the conversation to follow the path of my needs, and is quite capable to keeping me focused during our discussions. His experience in marriage counseling has been valuable during the last couple of years. . ."
–M.P.
Buddy: The therapy-assistance dog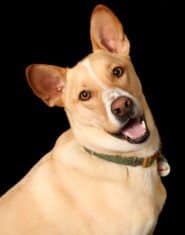 This picture really captures him (when he's awake): Present, intelligent and a show-off.
Buddy is a regular presence in my office. He helps people feel more at ease. He is quite intuitive, does not bark, and and enjoys playing at Zilker Park.  If he is not in "work" mode, he will likely come say hello, then go to sleep beside me. Feel free to give him a scratch, he's super friendly! But please don't just give him treats–he has to earn them, and sometimes he cannot have more if he has already gobbled several treats up from earlier clients.
I trained Buddy in the intensive Therapy Dog program at the local non-profit Austin Dog Alliance. While I do not take him to nursing homes and hospitals, his intuitive nature makes him a perfect fit as an emotional-support animal in my practice.
Featured Article: Cathartic Writing - When the written word heals
Sometimes we feel like our pain is so intense we just cannot get it out of our heads and hearts; it can be unbearable to the point of leaving us almost paralyzed with emotional agony. Recently, in Austin Texas, a local musician (John Pointer), known in countries around the globe, lost his trusted best-friend, his 9 year-old dog, Benny. Now John is already well-known for his musical and songwriting talents, but as you get to know him, you find that he has a heart of gold and wants to help people heal from whatever pain is in their lives; he sees music as a path to this kind of healing. When he couldn't bear the pain, he decided to turn to what he knows best: writing. In this case, he wrote a letter from Benny's perspective, about his final days. It is a heartwarming, and heartbreaking, example of Cathartic Writing where he begins to get the pain out of his head and heart, and on to paper; and in this case, out to millions of people who have read it and been helped to heal with it.
Therapy helps you help yourself
You deserve to know how to adapt to life and its inevitable curve-balls. When you feel stuck though, it is important to know where to go to get what you need. Whether you just need some insight from a neutral 3rd party, or a more in-depth exploration of your circumstances, I'll help you:
See what your discomfort is trying to tell you
Develop a plan that resolves the discomfort
Apply that plan in changing circumstances
Because we will be focusing on where you want to go (rather than on where you've been), we will not get bogged down in the past; I will help you learn from your past experiences so that you can apply the lessons learned moving forward. Allowing therapy to 'help you help yourself' means facing towards what you want, not what you don't want. Remember, you'll go where you're looking.
Counseling improves communication skills
Couples counseling is one of the most common reasons people start counseling. You probably feel frustrated and hurt when you feel that your thoughts and feelings are dismissed (dismissal is often called the worst kind of insult). I have worked very hard to develop an approach where both of you can feel heard and understood, even when you disagree with each other.
Think better, feel better
Our emotions are the physiological expression of our thoughts; this is why they are called 'feelings' . . . we physically feel them. We can all relate to having a stressful thought ("I have 10 things to do in the next 5 minutes!"), then feeling our shoulders and neck tense up; or perhaps we have an anxious thought ("Will my boss approve of my project?") followed by a swirling ball of tar in our belly. And when you stop and consider that our emotions/feelings are processed in our brain, which is a slab of meat between our ears, the idea begins to make more sense! So, it's ike the late Dr. Wayne Dyer said, "Change your thoughts, change your life!"
Solution-oriented counseling
While working at an international Employee Assistance Program (EAP), I had the good fortune of receiving in-person training, clinical case consultations, and live supervision in the Solution-Focused/Brief-Therapy model by several of its pioneers and highest teachers, including:
Insoo Kim-Berg
Scott Miller, PhD
Barry Duncan, PhD
These teachers were extremely important in shaping my approach to effective counseling. I learned to assume that you already have the tools for success and happiness; and that my job is simply to help you uncover them and apply them in new and creative ways. It's a strengths-based approach that fosters adaptation to your reality by using your inherent strengths.
Mindfulness-based counseling
I also bring mindfulness practice into our work to help you see things from a less cloudy place. In stressful times, most people get caught in a negative cycle of judgement and "borrowing trouble" that only adds to confusion. When we strip away judgment and assumptions, we cut through the clutter and are able to see efficient solutions much more easily.
Your mind is your body
If you have ever wondered how on earth the mind and body are the same thing, I'll explain it very simply: Your mind is a function of the gray matter between your ears . . . in other words, your "thoughts" are, at the most basic level, chemo-electrical pulses flying around the neurons (the gray matter) in your brain. Think of the neurons as the wires that carry electricity. And these wires extend all the way down to your fingers and toes; they control what your muscles do, that is, how you move the rest of your body around. This is why exercise is so helpful for mental health: the better you care for your body, the better you are caring for your physical brain.
In 2010, Jonathan was selected by renown spiritual teacher Ram Dass to be one of only seven people in the nation to share his daily thoughts and reflections on the 108 core teachings of the classic meditation & spiritual enlightenment guidebook Be Here Now," an Amazon #1 Best Seller in "Religion & Spirituality."–Click Here to read more. . .
Recently published articles
How discomfort is trying to help you
When you put your hand on a hot stove, it is the obnoxious pain that is helping motivate you to pull your hand away in order to stop doing damage. When you have a bruise, it is the pain that happens when you touch it that helps you leave it alone so your body can do what it knows how to do: heal.
Discomfort exists to eradicate itself. It wants to resolve, to go away, to let you return to a state of balance. This includes emotional discomfort like grief, anger, fear and sadness. Anger always arises from hurt; it wants to give you the energy and motivation to deal with the perceived or real threat that has hurt you.
I will help you learn how to make sure your discomfort helps you rather than making things worse.
Family
Our families are the people that we are supposed to trust the most; who we are supposed turn to for comfort and guidance. We tend to take out or worst moods on them. They are the most important players in our early development, and since this is what we build on to become adults, they are also crucial to our adult development.
Growing up in a healthy home has a lot to do with our success in all parts of life. So, if things feel difficult, perhaps you see your kids acting out in ways that are concerning, it may be time to pay attention to those red-flags rather than assuming that it'll just pass.
Co-parenting: Best Practices for divorced parents
Take a close look at this picture. See the problem? The parents have forgotten how their relationship impacts their little girl. Perhaps they are divorced, and the father has just brought their daughter back after a great weekend with him. . . and this is what she will come to expect from visitation: a fight upon her return. To her, it must be her fault.
Of course you didn't get married expecting to split up, but it happened; and now you have a kid, or a couple of them to care for. When a 2-parent household cannot be held together for whatever reason, it is critical that you and your ex- be able effectively co-parent so your kids don't get caught in the crossfire. Handling yourselves with the dignity and integrity that you would hope your kids would show will help you to model if for them, and keep things healthier and peaceful.
Read about ground rules, tips, reminders and best practices here.
Trouble getting your husband or wife to agree to couples counseling?
This is by far one of the most common barriers to getting started in couples counseling. Typically, it is the husband or boyfriend that is opposed to "getting help" for the relationship. It is important to understand that this may not simply be laziness or defensiveness; rather, men often are concerned that they have already been judged as "wrong" or "broken" and that couples counseling will only be the counselor and their wife/girlfriend ganging up on them and telling them just how wrong they are and that they need to change.
Read more about Marital and Couples therapy. . .