Family Counseling helps your whole family feel closer
Ever just snap at your partner, kids, or parents?
Do you feel like you've lost your connection with your family?
Do you dread coming home? Make excuses to run long errands?
Is there a cloud hanging over your home?
Because families see each other after long school and workdays (not to mention after Austin traffic), people are often already on edge, ready to snap at the slightest annoyance. And because people take out their stress on those they love and trust the most, family time can feel hurtful. While it may seem difficult, it is important to consider not taking things too personally. A person's stressed-out personality is totally different than their preferred personality. Long story short, when stressed-out, we become the obnoxious, exaggerated, immature version of our opposite personality type. Sound familiar? Trust me, it's normal and can be managed when we know more about what is going on.
Family counseling using a personality inventory
Family counseling is bringing your family together so you can learn about each others' perspectives and find ways to communicate that helps you manage conflict. This means that we all need to understand your unique personalities and what works best for your family. Using a personality assessment, we will identify each personality; this will help us build a plan for managing conflict that is based on each person's strengths. We are NOT looking for perfection though. Conflict is completely normal and healthy in all families. The trick is to engage in dialogue instead of gridlock.
Here are some dynamics that we will use to get your family back on track:
Each person's preferred and shadow personality type. I'll have each of you complete an online personality assessment (takes about 30 minutes)
Stressors that the family is enduring, and trends about when things flare up around those issues
Stressors that each individual has, and trends about flare-ups
Each person's perspective on what is happening in the family, and what they'd like to see improved
Conflict and communication styles of the family, and of each individual
Strengths that each person has that can help
Areas to practice new ways of behaving
This is by no means an all-inclusive list, but most things will fall under at least one of those areas. Using a personality inventory will help us know basic trends in how you deal with stress, how you approach conflict, and how you communicate.  This works very well with a Mindfulness-based approach to family counseling since the more self-aware you are, the more effective you'll be at recognizing your triggers, and triggers of other family members. This one dynamic, mindfulness, is therefore partially responsible for about 80% of improvement in the family. You cannot fix a problem until you see it for what it is…and that's the definition of mindfulness: seeing things simply as they are.
Mindfulness-based family therapy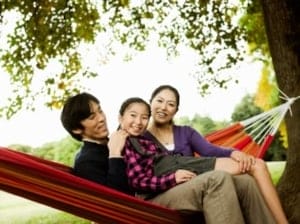 So we've covered how knowing yourself and your family members is an exercise in mindfulness, which helps people get on the same page about what is going on. It's much easier to take care of issues when we know what is really going on, and when each person feels understood, even if people still disagree with their opinion.
But mindfulness becomes far more than just awareness of one or 2 situations. It also helps us see larger patterns that can help us plan. For example, some families get very stressed out on holidays, and therefore those loving times may not always feel so love-filled. People are spending more money, either having people in their home (it's stressful to be a host) or are staying elsewhere (it's stressful not being on your own turf).  So knowing that holidays are tough, a family can plan for extra down-time, take steps to decrease stress and increase recharge time for people (different personalities have different ways of recharging).
The same concept of larger patterns applies for inventory time at a job site, evaluation at work, tax-time, kids being home for the summer, dealing with the stress of Austin roadway construction, etc.
Strengths-based family therapy
Since each personality is unique in what creates stress for them, and how they manage it, it stands to reason that each person will likely have particular strengths that can contribute to getting the family back on track. Taking an inventory of your strengths will help you know where you might be able to offer help in various situations. If you have an ability to stay calm when dealing with a crying 2-year-old, then when Mom and Dad are stressed out, you might decide to get up and tend to your little brother for a bit. The gesture will not go unnoticed, and it increases the chances that others will step up for you when you need it. It's not a competition, but instead developing a pattern of how to see people's moods as indicators for what they need. A family that has a habit of turning towards each other when needed, and giving space when needed, is a family that has less pressure and resentment building. Pressure and resentments within the family are very common and often sit in peoples' blind spots.
Jonathan F. Anderson, LPC-s has worked in the helping profession since he started college in 1990. After completing his Bachelor's degree at the University of Texas, Austin in 1994, he attended the highly-regarded University of Minnesota to earn his Master's degree in 1997. He is a Licensed Professional Counselor and is recognized as a Board Approved Supervisor by the State of Texas Board of Examiners of Professional Counselors. Jonathan has completed Level-2 of the Gottman Method of Couples Counseling, and in 1998 received training by the International Critical Incident Stress Foundation in Advanced Critical Incident Stress Management & Debriefing. To learn more about Jonathan's practice, click here: Jonathan F. Anderson, LPC-s.